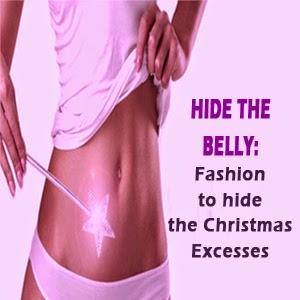 Hide the belly
has become something traditional to start the year: January arrives, and we start the 2015 with great enthusiasm and desire take new adventures, but we did it once again, we ate all the delights Christmas, and we caught some extra pounds this Christmas. The good news is that slowly, with awareness and responsibility, we can recover our figure while we resumed our routine. So don´t despair!.
However, in
AF Moda
we are of the opinion that while everything returns to normal, we have to take care of our image and continue feeling good about ourselves, so we have no choice but to use fashion for us to achieve it. The Christmas excesses tend to accumulate in the belly: waist and midsection of the body. Therefore, as every year, we´d like to start our year with a post dedicated to simple tips to
hide the belly
. Let´s begin!.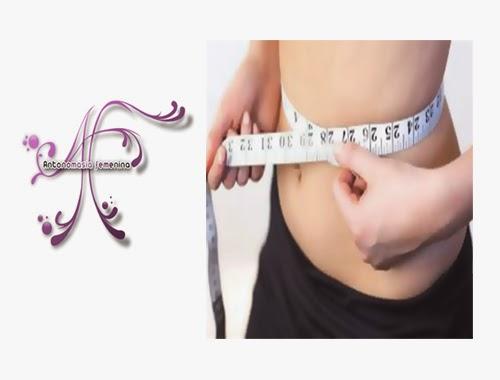 It is essential that we DO NOT adjust the area we want to hide which is the waist and belly. The basis for preparing all our looks when we want to
hide the belly
should be the trapeze line, which consist in enhancing the cleavage and chest area, letting loose the belly area and start of the hips, and seeking to adjust the lower body to compensate the rest. The Fabrics should be fluid and light, but not too thin. As for colors, remember that dark and plain tones make us seem more stylized, so we will bring in upper garments so that they better cover our belly.
For our Tops we will take those that outline the body without tight it, but not too wide as it would add an excessive volume. Opt for straight and shaped "A" cuts. The draping effect and frills or small flights in the center of the body also will help us a lot. We can also play with necklines and accessories, so that attention is diverted to the upper body.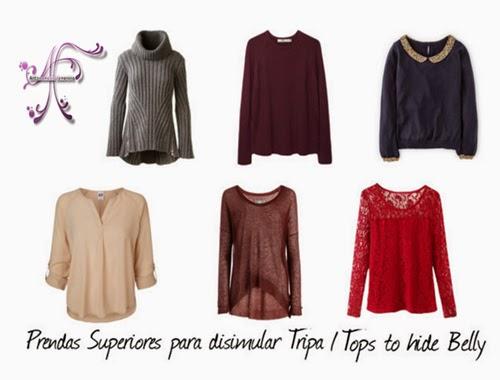 For our Bottom we will prefer skirts and pants at the waist or just below the navel without tight it, with low shot, straight or slim fit. If they have a wide waistband and side zipper, even better.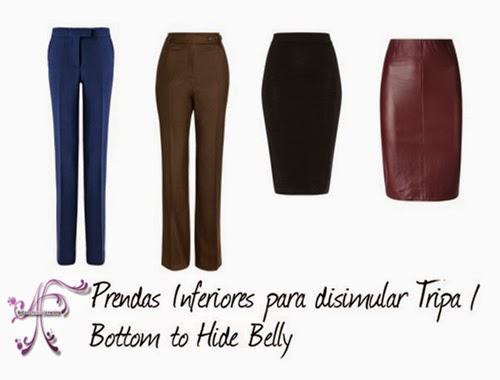 We also have what we call Allied Garments, which will help us to hide and give feeling of being stylized. In the case of the belly, we have the jackets and blazers to mark waist being just above the widest part of the hip, as well as open vests will be very beneficial. Also dresses with empire line cut or trapeze line will be perfect to
hide the belly
.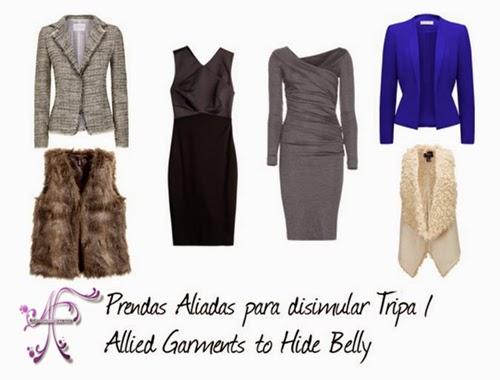 Regarding things to avoid, the list is extensive and very specific: thin fabrics, light and bright colors, large prints, long jackets with very broad shoulders, long or tight blouses and shirts, cuts at the waist, thick belts, and excessively long necklaces with ornaments to the abdomen.
For these specific cases like trying to
hide the belly
, in
AF Moda
we always promote control lingerie. It is a type of lingerie that helps modeling and shaping figure, "containing" certain areas of the body and making us look slimmer. In the case of the belly, there are a variety of vests, girdles, panties and bras, depending on the severity of the case, which will be the ideal partner for our looks.
As we said,
hide the belly
in January is part of the return to routine. The important thing is trying to do it only while we return to our healthy habits such as diet and exercise, so that we can get back as soon as possible to our normal proportions. From
AF Moda
we invite you to do so and meanwhile to take care of your image with these tips!.
Have a Nice Week and See you Next Time!
Fuente:
este post proviene de
AF Moda
, donde puedes consultar el contenido original.
Creado: