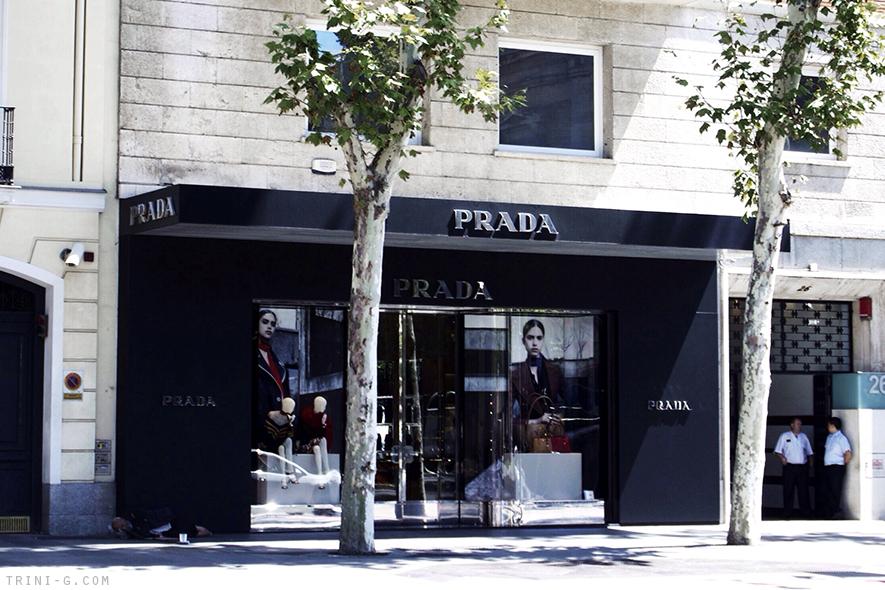 This week, it's time for Prada Madrid women's store. This store is a few stores away from the men's store which is quite comfortable if you are going his and hers shopping. It is a beautiful decent size store, that mostly focuses on bags. The shoe selection is not very good here but in the bag department I must say it is pretty good. There is always a lot of staff and very few customers I must say, and almost 90% of the time those customers are tourists.
The staff here is super friendly which makes the overall experience here good. I rather shop here than in the concession located at El Corte Inglés, because in my experience stores are always much more focused on the customer, have more stock, and you have more room to sit and they offer you a drink haha, sadly this not happening in the concessions here in Spain just yet.
Overall I would say this store is a good 9/10 only because of the stock issue.
—————————————————————————————————————————-
Esta semana es el turno de la tienda de Prada (mujer) en Madrid. Esta a solo unos pasos de la de hombres lo que si vas en un plan de compras de pareja es bastante cómodo. El tamaño de la tienda es bastante decente comparada con las tiendas de firma que suelen haber en Madrid, centrándose mayormente en los bolsos. El stock de zapatos es bastante limitado, pero en cuanto a bolsos suelen tener un montón. Suelen haber muchos dependientes pero pocos clientes y el 90% son turistas, pero bueno eso no es raro en España, que le vamos a hacer.
El staff de la tienda la verdad si que son encantadores lo que hace la experiencia de comprar en Prada grata. Prefiero a ojos cerrados comprar aquí que en el corner de El Corte Inglés porque lógicamente las tiendas siempre están mucho mas cuidadas, la atención al cliente suele ser mejor y el stock mayor, y ya si sumamos el extra que te suelen ofrecer algo de beber en tienda (hablo en general en este caso no solo de Prada) cosa que no hacen en corners no hay donde perderse.
En general le doy un 9/10 únicamente por el tema stock.
Tweet
Fuente:
este post proviene de
Trini
, donde puedes consultar el contenido original.
Modificado: