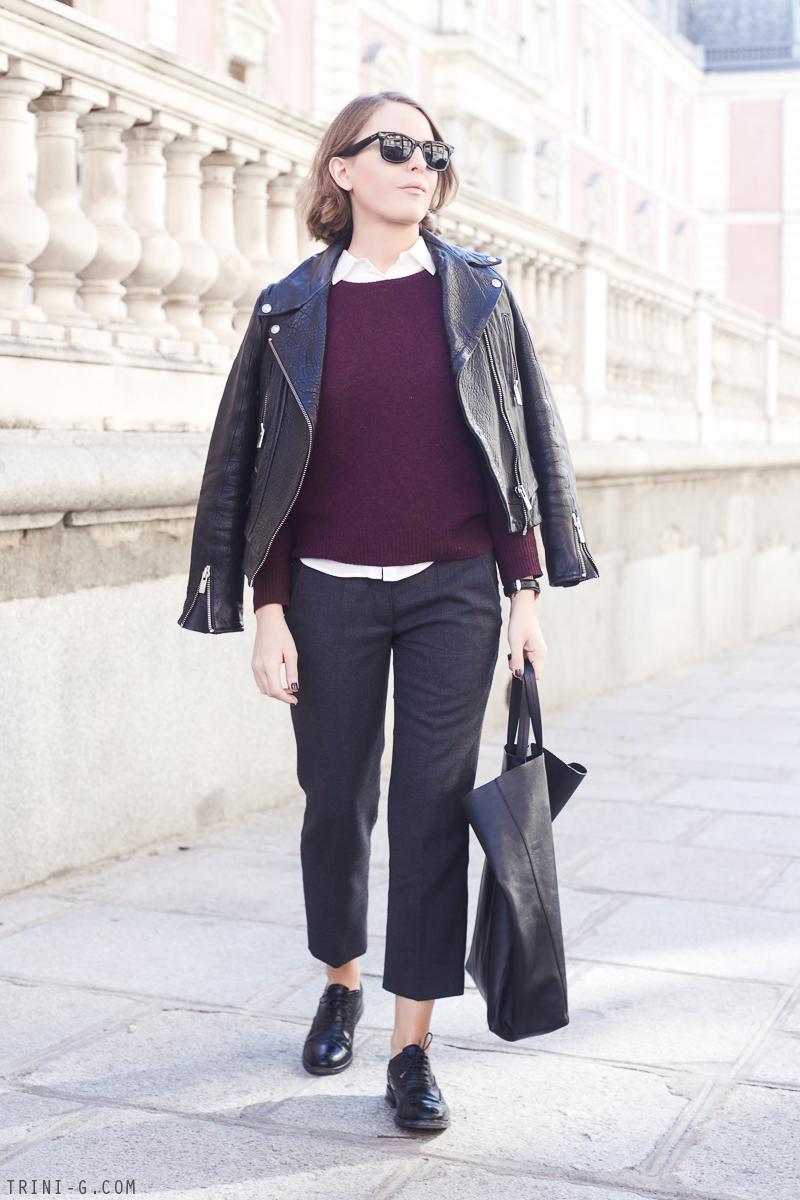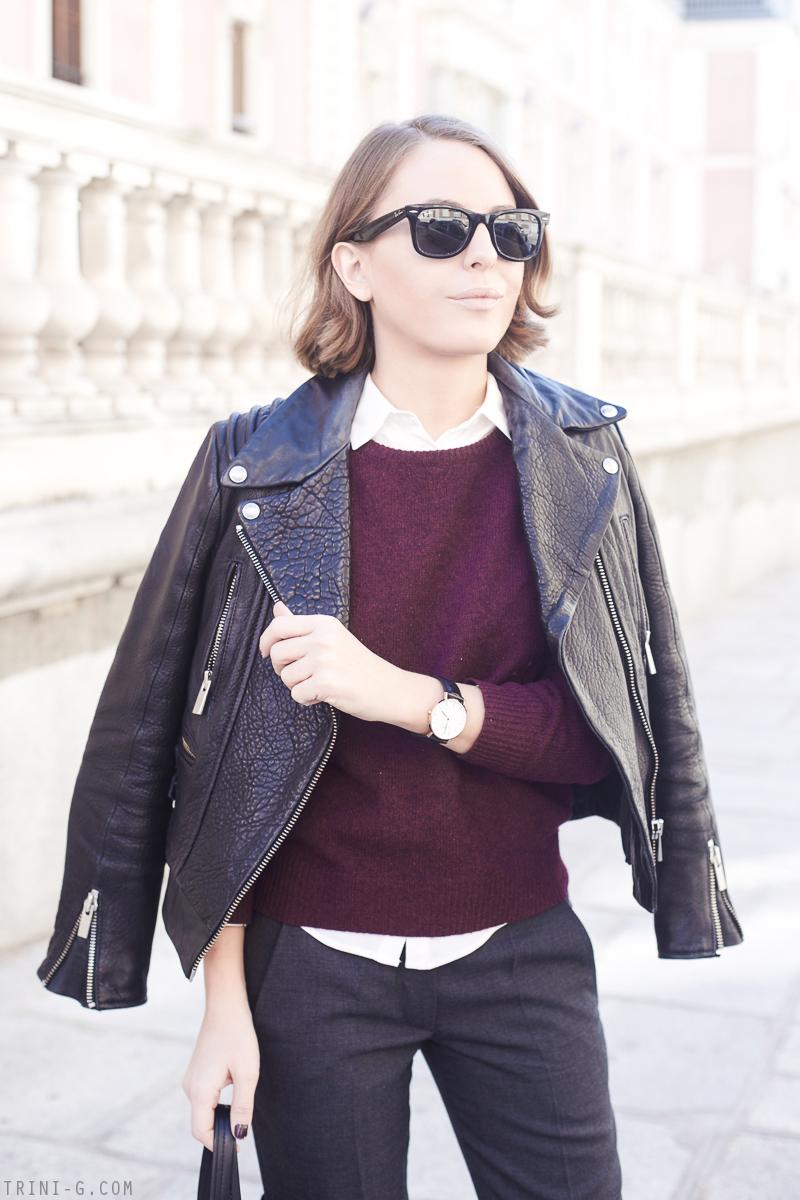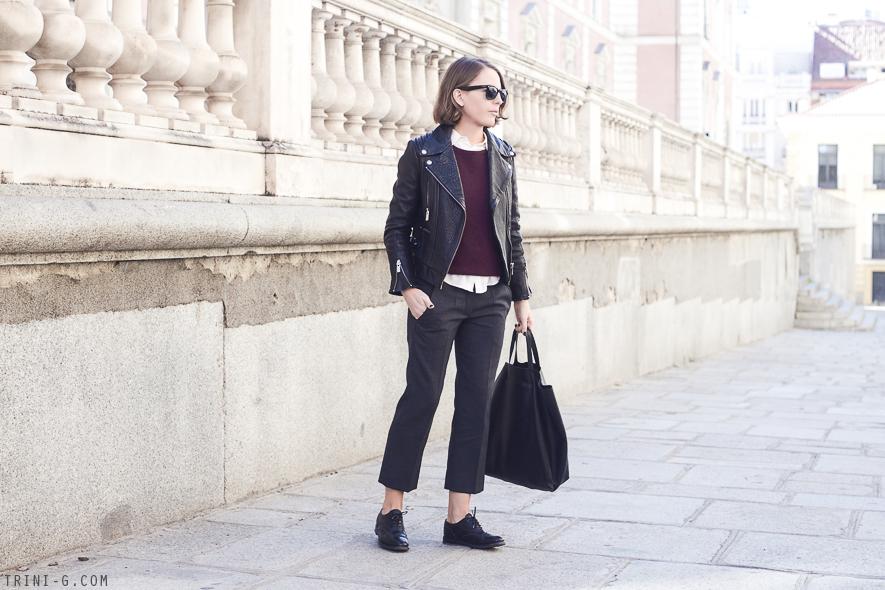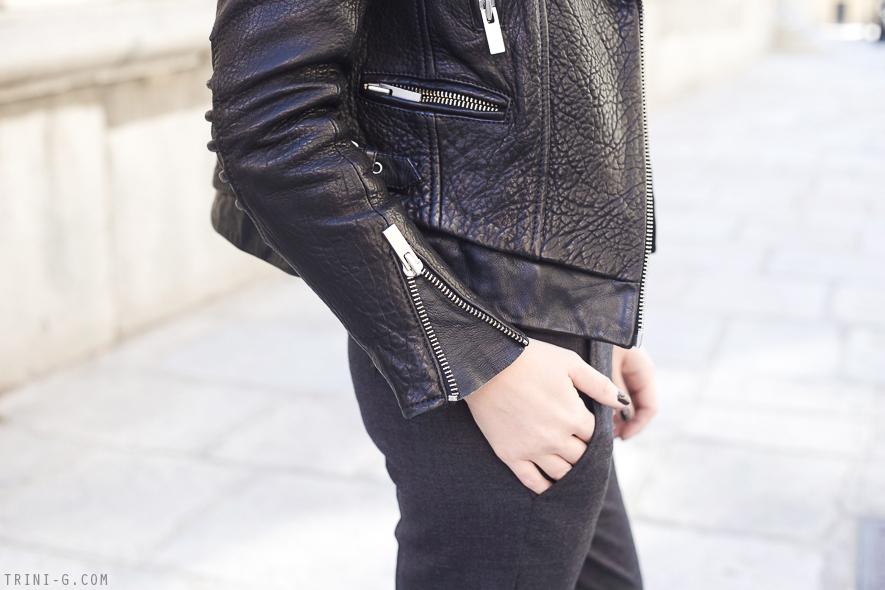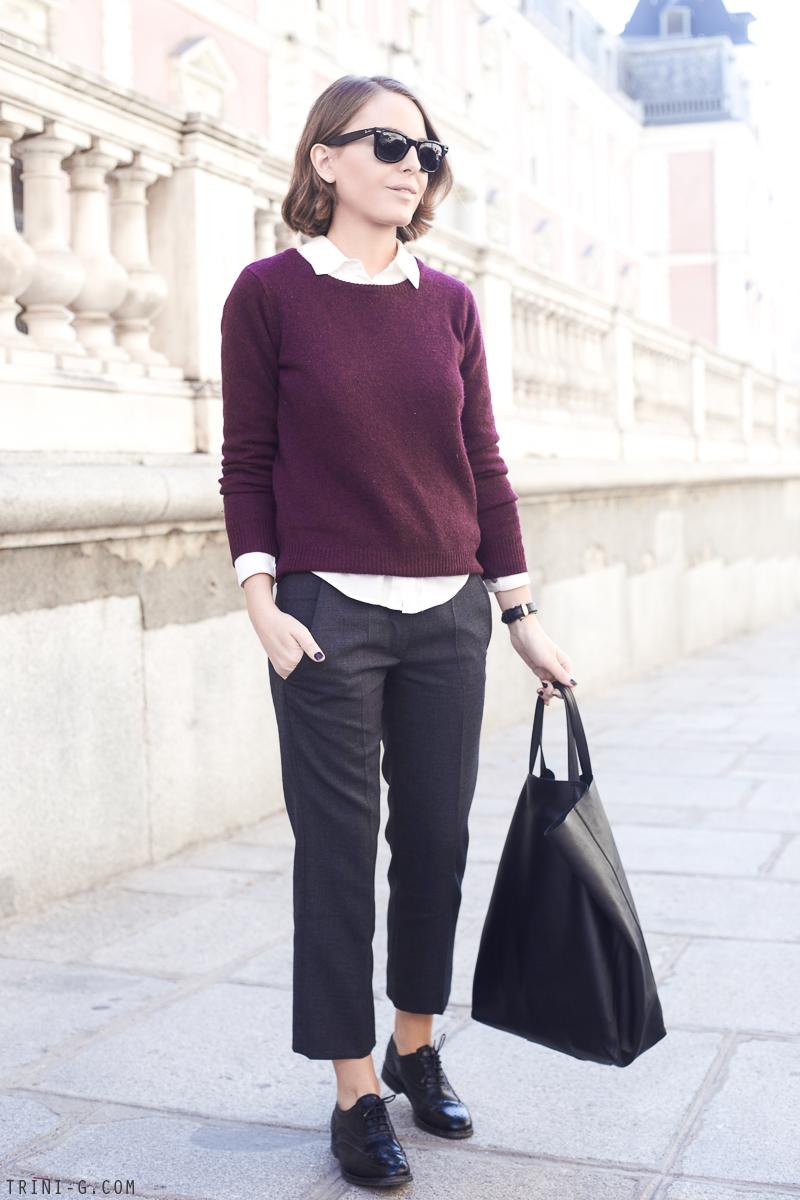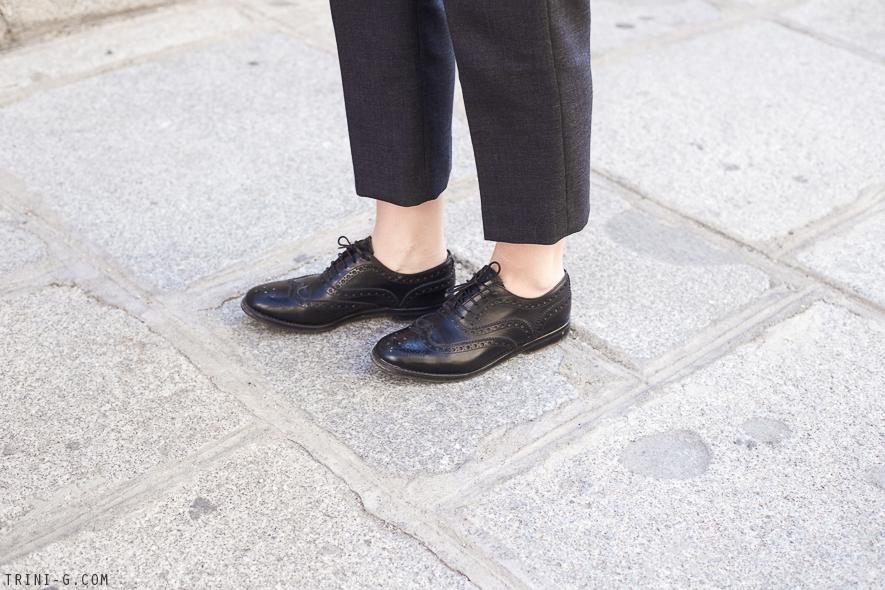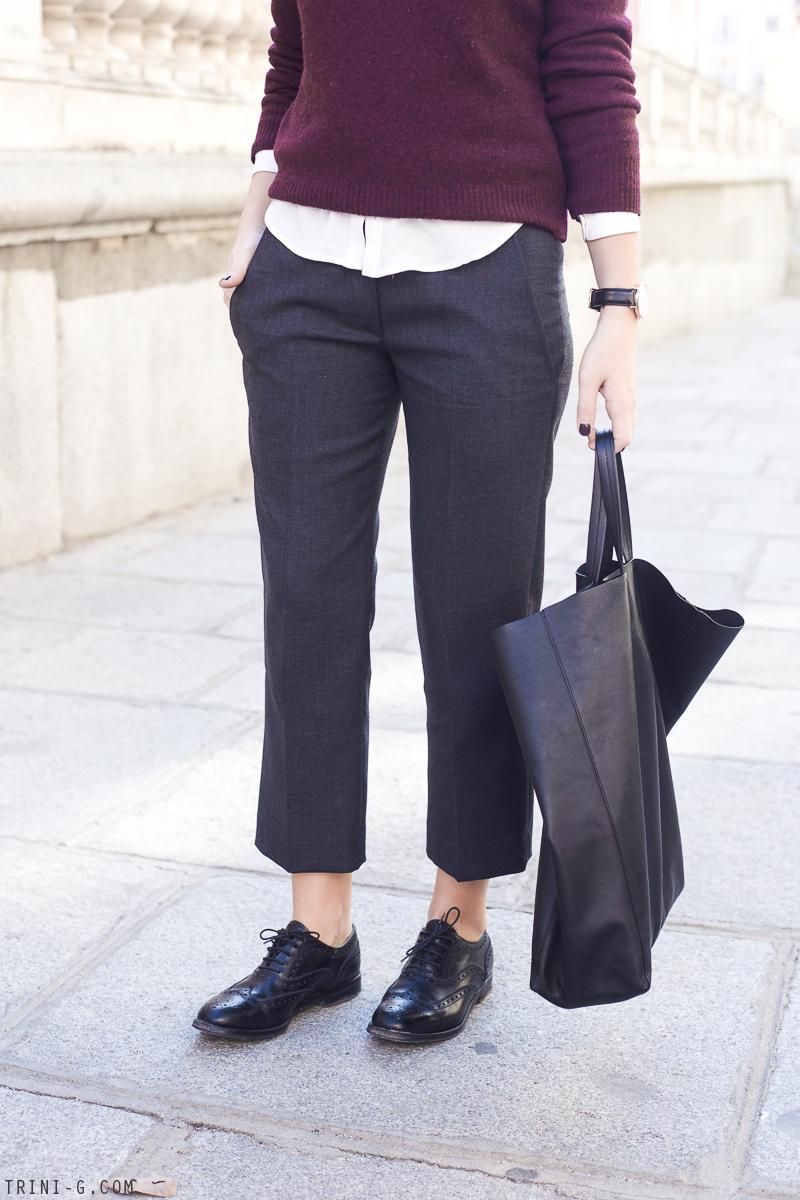 Still in winter but I feel this is a very early spring outfit, and that is of course because we've been having awesome spring weather lately. So socks and coats have been suspended for a while, and we can enjoy this: transitional weather clothes.
I am wearing another of sale purchases, that I bought while I was abroad, and lucky for me this too were an awesome fit. This was easy though because I do wear a lot of Isabel Marant, even though mostly from her Etoile line, strangely though this winter I only bought from the main line. I guess the designs felt more classic for me. This is my first pair of grey trousers, they toped my must-buy list, and I finally got to find them. Just how I wanted by next trousers to be, cropped and straight, a little wider than usual. This model is called the Saphir, and yes I have eyed them for a while. Today you can see me in a pop of color, burgundy, and that rarely happens, but to me is one of the few colors I like.
The rest is mostly old stuff, but all classics of course!
—————————————————————————————————————————-
Aun en invierno pero con un conjunto de comienzos de primavera aprovechando el buen tiempo que estamos teniendo. Dejo el abrigo y los calcetines en casa hasta que vuelva el frío (no creo que dure mucho este buen tiempo) y de momento disfruta de la ropa de transición.
Llevo otra de mis prendas nuevas que compre en rebajas mientras estaba fuera y que por fin puedo usar al llegar a Madrid. Tuve suerte con estos pantalones también, aunque era mas fácil que me quedasen bien ya que Isabel Marant es una firma que conozco muy bien, tengo muchas prendas suyas, aunque casi todas de la linea Etoile pero el tallaje es el mismo. Sin embargo esta temporada no sé porque me siento mas identificada con las prendas de la primera línea.
Este es mi primer par de pantalones grises, llevaba queriendo unos hace tiempo, y ahora por fin puedo usarlos. Son un básico genial, una opción a los pantalones negros y por supuesto van con todo. Este modelo tiene la gracia de que es mas corto y ancho que es una forma en los pantalones que me encantan, así que tiene ese plus de una forma distinta a mis dos pantalones negros. También llevo un poco de color raro en mí, pero esta vez si que me apetecía, el color granate/burdeos/vino como se quiera llamar es de los pocos que me gusta, aunque no en exceso así que de vez cuando si que me podréis ver llevándolo.
—————————————————————————————————————————-
Ray-Ban
wayfarer sunglasses (get them
HERE
) |
The Kooples
shirt (similar
HERE
) |
A.P.C
sweater (similar
HERE
) |
The Kooples
leather jacket (similar HERE) |
Isabel Marant
Saphir trousers (get them
HERE
) |
Daniel Wellington
watch (get it
HERE
) | 
Church's
brogues (get them
HERE
) |
Céline
cabas bag (get it
HERE
)

Tweet
Fuente:
este post proviene de
Trini
, donde puedes consultar el contenido original.
Creado: