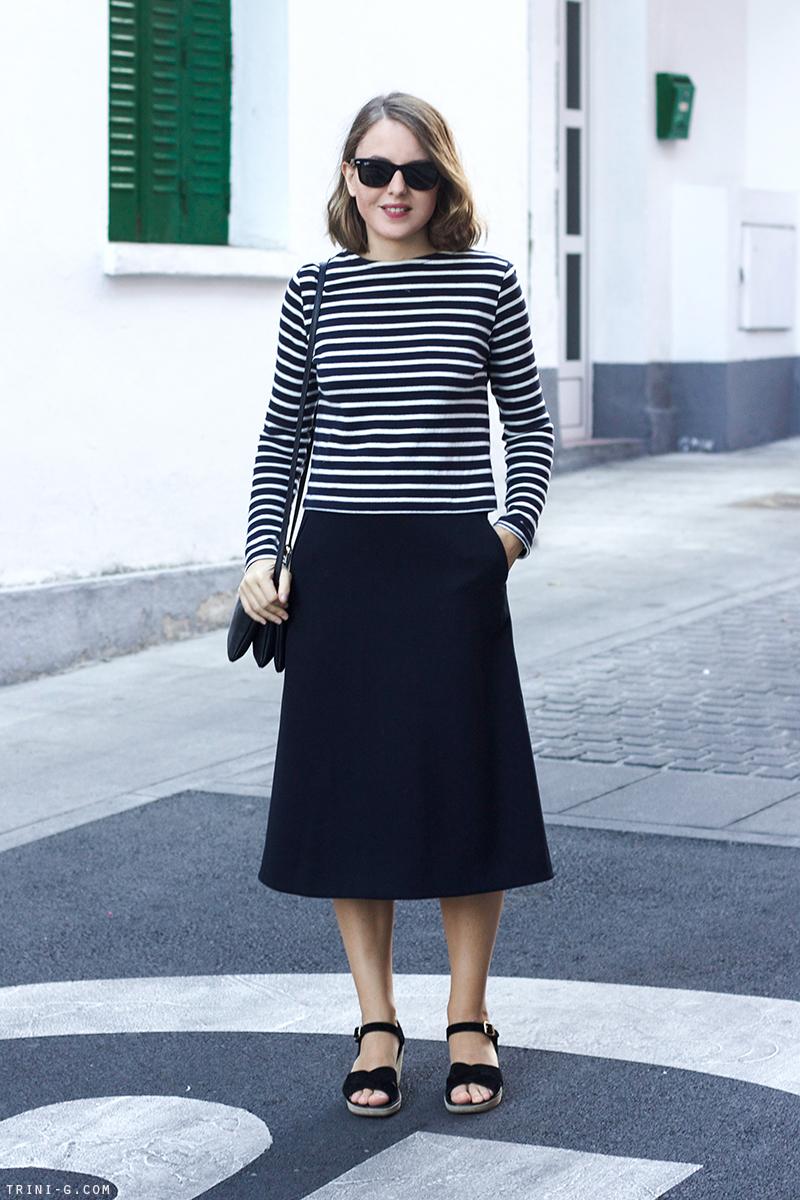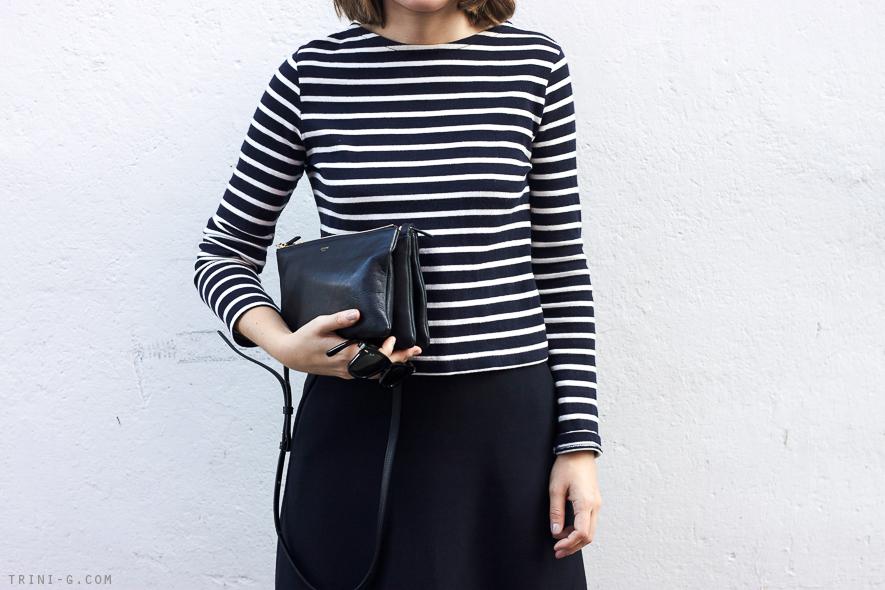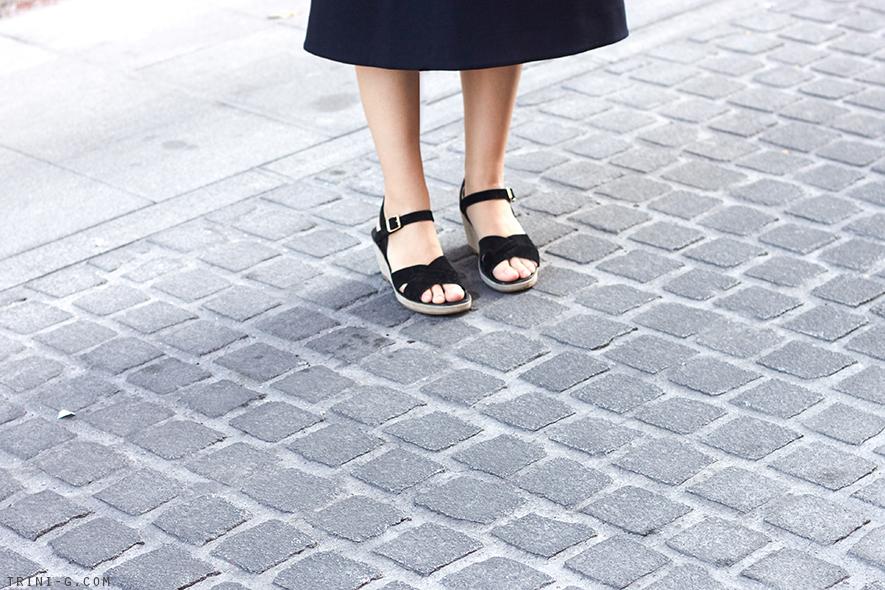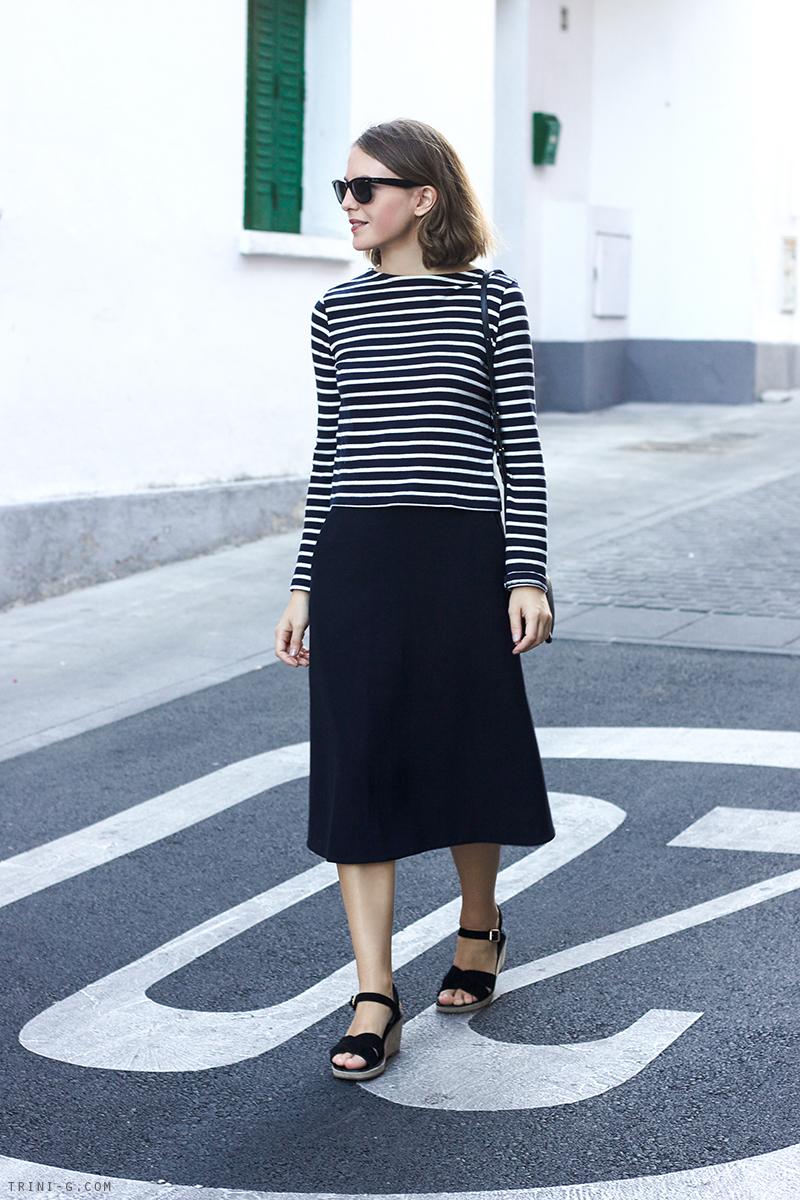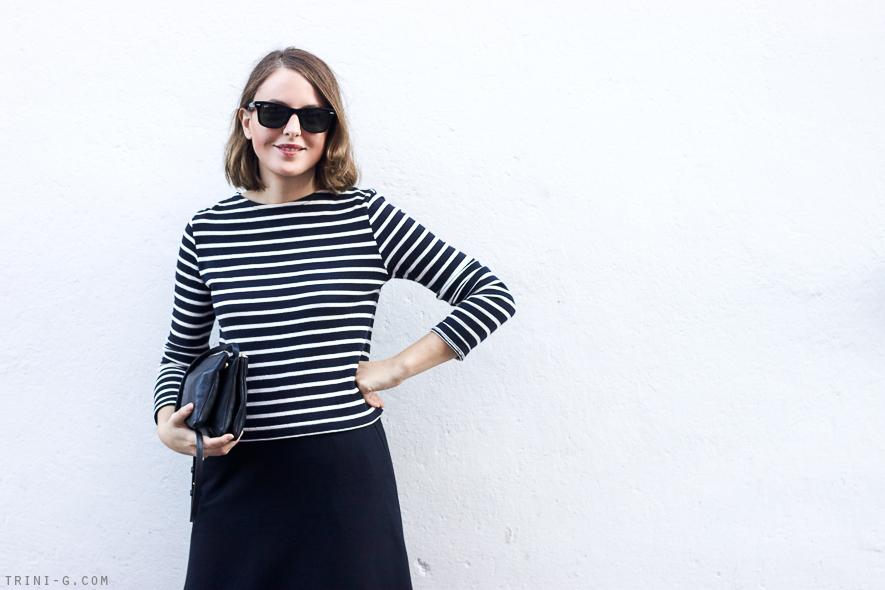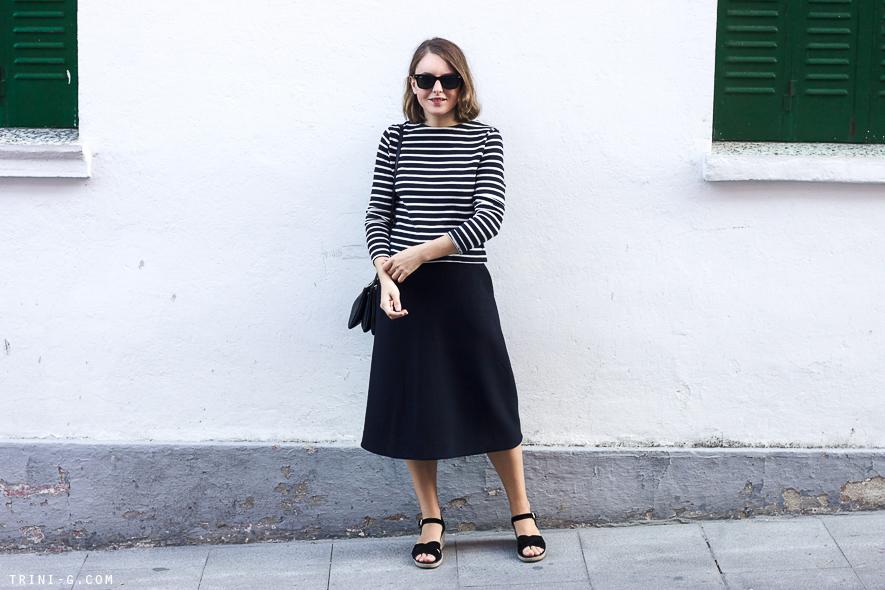 We've been back to having awesome weather once again so while I transition into fall I keep some of my favorite summer elements and mix them with my fall essentials. This outfit is just the case. I am wearing one of my favorite sandals with an otherwise very in between seasons outfit.
The skirt I am wearing is a very good example of a perfect transition garment. I am usually a mini skirt girl, and the mini skirt boots combo would work just as fine as an alternative to midi skirt sandals or flats combo, but 1. I am finding harder and harder to find nice skirts that actually look mini on me, and 2. I am feeling the longer length much more. I don't why but I find them more fun, less evident and easier to wear in between seasons. A mini skirt and sandals screams summer, but longer skirts, specially in thicker material do not. The best part is you can find this type of length in all the shapes, colors prints and textures imaginable. I remember some years ago when people used to talk about a midi trend, thats over, it is now a classic. Same thing that happened with skinny or boyfriend jeans, white sneakers, etc. They are comfortable and easy to wear so they remain. Now the best part is with some tights and a pair of boots and you can take this skirt into winter, take out the tights and add some flats, and it will make it to spring. Now a garment you can wear three out of four seasons is a good investment in my opinion so my advice is to get one of these skirt, you will love them forever!
—————————————————————————————————————————-
El buen tiempo ha vuelto una vez mas así que mientras el tiempo me lo permite hago la transición al otoño mezclando algunos de mis elementos favoritos de verano con mis básicos de otoño. Este conjunto es un ejemplo.
La falda que llevo es lo que podría llamarse una prenda de transición. Usualmente uso mas faldas cortas y realmente para el entretiempo una mini falda con botas es una opción igual de buena a una falda mas larga con zapato o sandalias. Pero 1. me esta costando cada vez mas encontrar faldas cortas que me gusten y me queden como se supone que tienen que quedar y 2. me identifico cada vez mas con algo mas largo. No sé porqué pero veo a las faldas midi mas divertidas, menos evidentes y mas fáciles de usar en entretiempo. Una falda corta y sandalias grita verano, pero una falda midi con sandalias especialmente si es un poco mas gruesa podría ser de cualquier estación. Lo mejor de estas faldas es que como son un clásico podemos encontrarlas en todas las formas, colores, estampados y materiales. Recuerdo unos años atrás cuando se hablaba de la tendencia de las faldas midi, pues bien, esa supuesta "tendencia" hace bastante que ha pasado y las faldas midi siguen aquí mas presentes que nunca. Lo mismo que pasó con los pantalones pitillo o de estilo boyfriend, de hablaba de una tendencia pero se transformaron en un clásico. En mi opinion nada cómodo, práctico y fácil de llevar va ser jamás una tendencia, porque nadie va a querer dejar de llevarlos, este tipo de prendas solo tienen un destino y es ser clásicos para siempre. La mejor parte de todo esto ya no solo es que su diseño sea clásico pero la longevidad de estas prendas es abismal, pasas de llevarlas con sandalias a ponerle medias y unas botas y tenemos un conjunto perfecto para el invierno, vuelve la primavera sacamos unas bailarinas y ya podemos usarlas otra vez! Una prenda que puede llevarse tres estaciones de cuatro en mi opinion es una buenísima inversión así que mi consejo es comprar una de estas la usareis por siempre!
Ray-Ban
wayfarer sunglasses (get them
HERE
) |
Petit Bateau
striped top (get it
HERE
) |
COS
midi skirt (get similar one
HERE
) |
A.P.C
wedges (get similar ones
HERE
) |
Celine
navy trio.
Tweet
Fuente:
este post proviene de
Trini
, donde puedes consultar el contenido original.
Modificado: