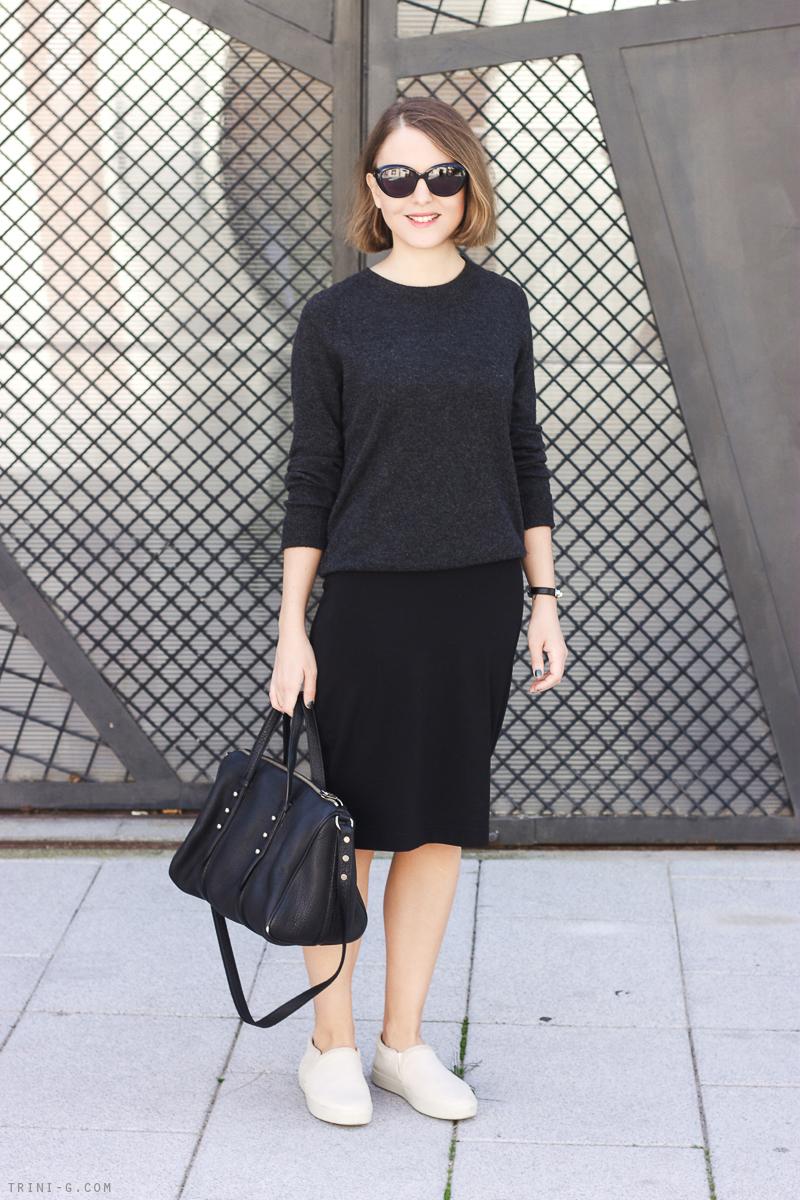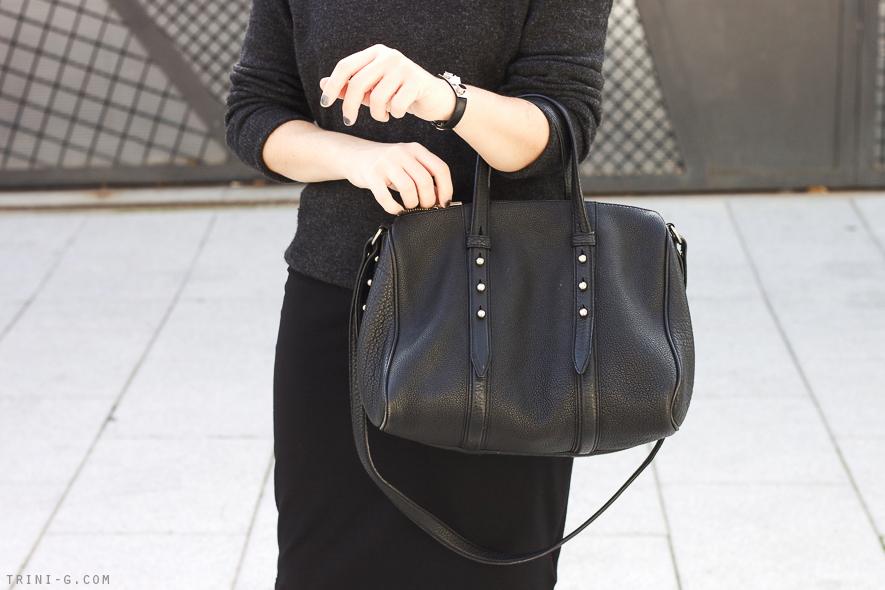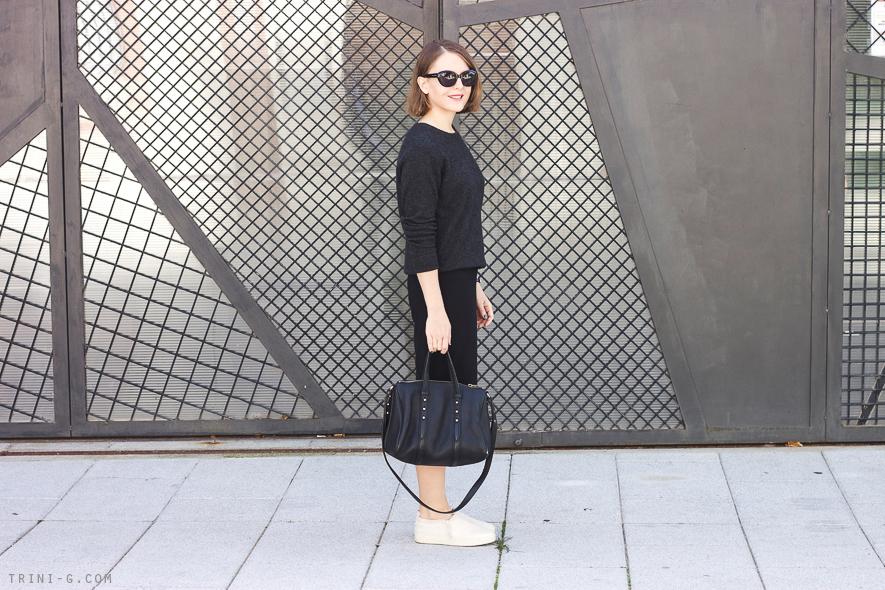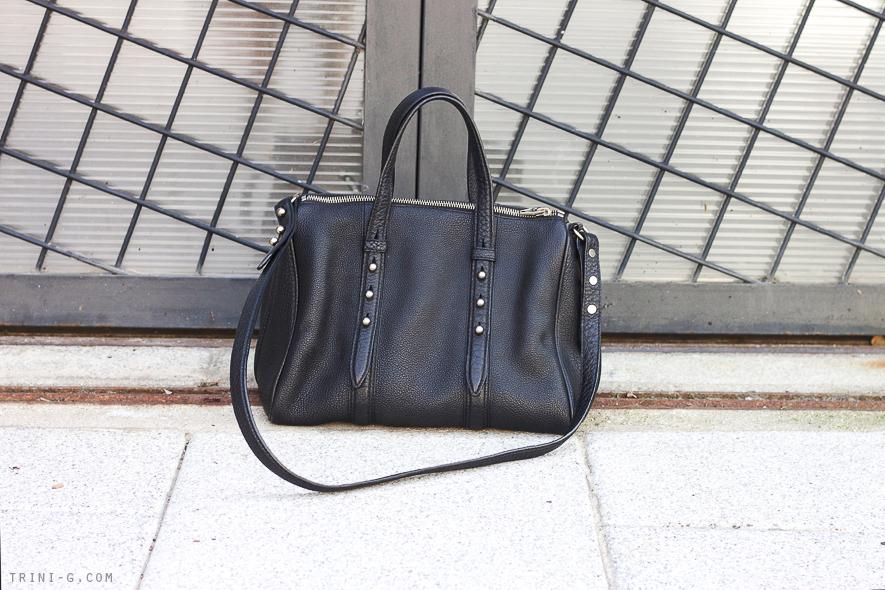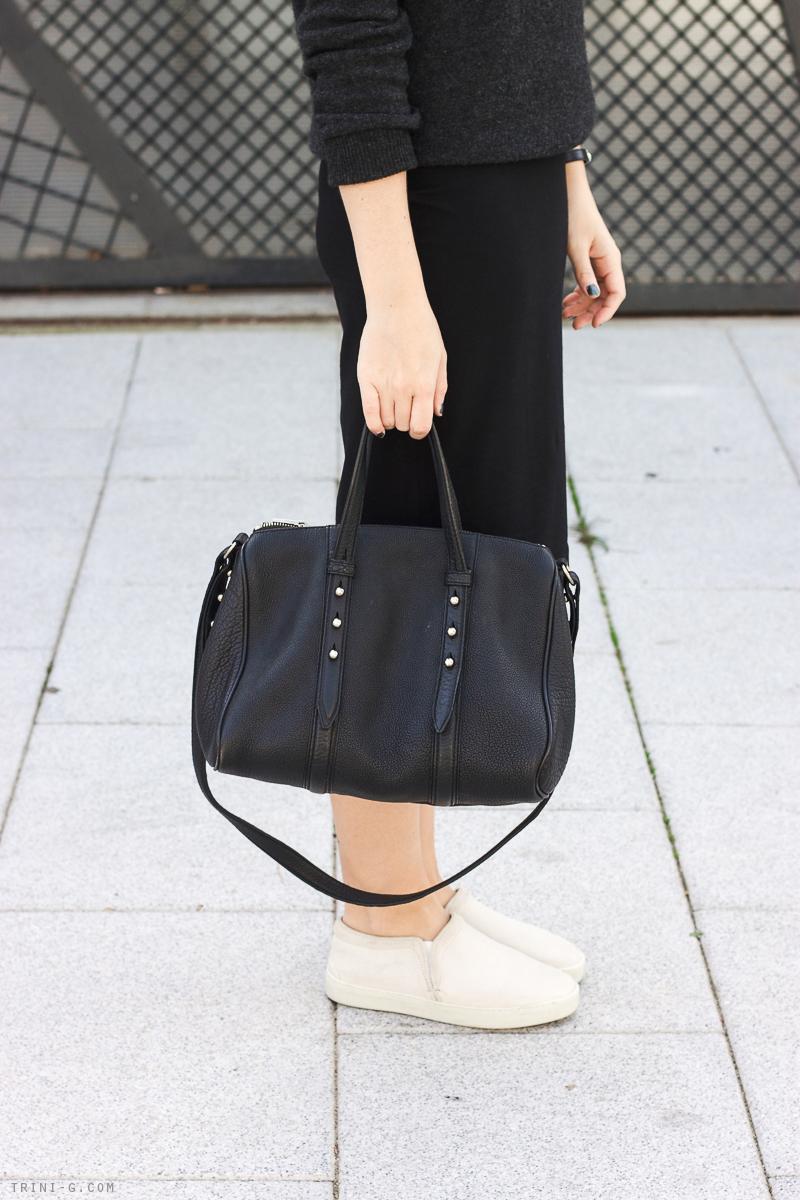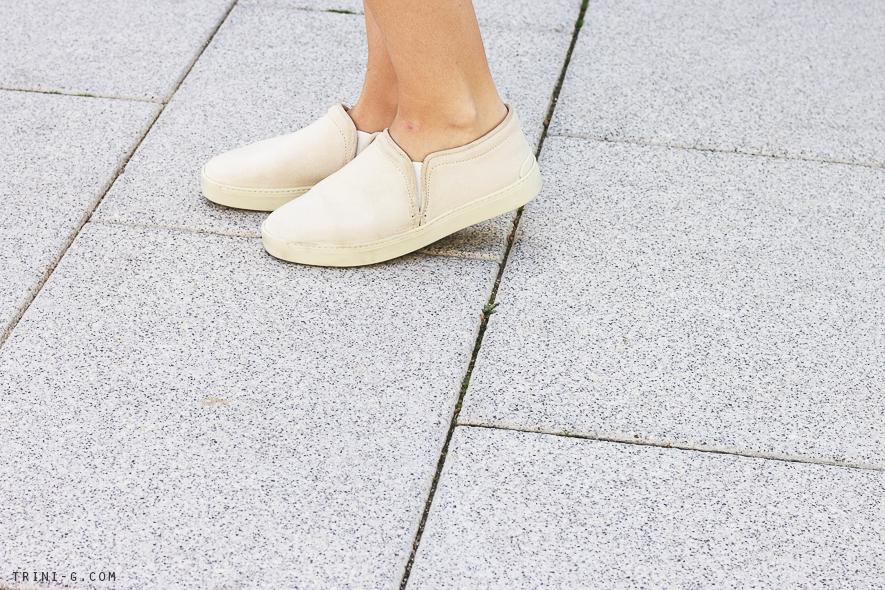 Today I am wearing something very new and something very old. My slip on ecru sneakers are new, and I'm wearing them for the first time…but my bag is one of my oldest bags (that I still keep/wear). I got it almost five years ago online ,and I wore it to death for a long time. I still wear it but not that often, I still keep it though because I love it so much. The design is fantastic very comfortable to wear handheld or handsfree, being black of course it is as versatile as it gets, and the lovely round studs add a nice tougher touch, but not in a loud, out there way like some other bags with studs are. It does fit a lot too, so that is a big plus!
As you can see I am taking the tights free thing to the max, if you follow me from long ago you know how I can go on like this to winter easily, if you are fairly new here, you'll probably see that in the next few months. And once again i'm doing a little layering wearing my dress as a skirt this time, making the most of it and its versatile design!
—————————————————————————————————————————-
Hoy llevo algo muy nuevo y algo muy viejo. Mis zapatillas son nuevas, de hecho es la primera vez que las uso, pero mi bolso es bastante antiguo, es de los mas veteranos de mi colección.  Lo compre hace casi cinco años y la verdad es que lo he usado muchísimo. Aún lo uso pero ya no tanto como antes, aun así lo conservo ya que me sigue encantando. El diseño me parece fantástico es muy cómodo de llevar ya sea en la mano o cruzado y el hecho de ser negro por supuesto lo hace muy fácil de combinar. Tiene unos detalles en color plata que le aportan un toque diferente pero sutil, a diferencia de muchos bolsos que con este tipo de añadidos resultan muy llamativos y estridentes. Un plus por supuesto es su tamaño, me encanta poder llevar todo lo que necesito y algo más.
Como podéis ver sigo sin llevar medias, siempre intento aguantar lo mas posible sin ellas, un poco que ver con la comodidad y también porque me gusta mucho como queda, especialmente cuando no es una opción evidente (como en verano). De ser seguidoras "antiguas" sabréis que puedo alargar el ir sin medias hasta invierno tranquilamente, de hecho creo que es una de las cosas en el vestir que me caracteriza, si no lo sois en unos meses lo veréis.
Por último añadir que una vez me he decantado por las capas, a simple vista mi conjunto parece una falda con un jersey, pero realmente es un vestido. Así puedo sacar el máximo partido a mis prendas de verano y darles una vida útil mas larga.
Marc Jacobs
sunglasses  |
Gap
dress (get similar one
HERE
) |
Equipment
sloane sweater (get it
HERE
) |
Saint Laurent
clous bracelet (get it
HERE
) |
Rag & Bone
slip on sneakers (get them
HERE
) |
Alexander Wang
bag (get similar one
HERE
)
Tweet
Fuente:
este post proviene de
Trini
, donde puedes consultar el contenido original.
Modificado: