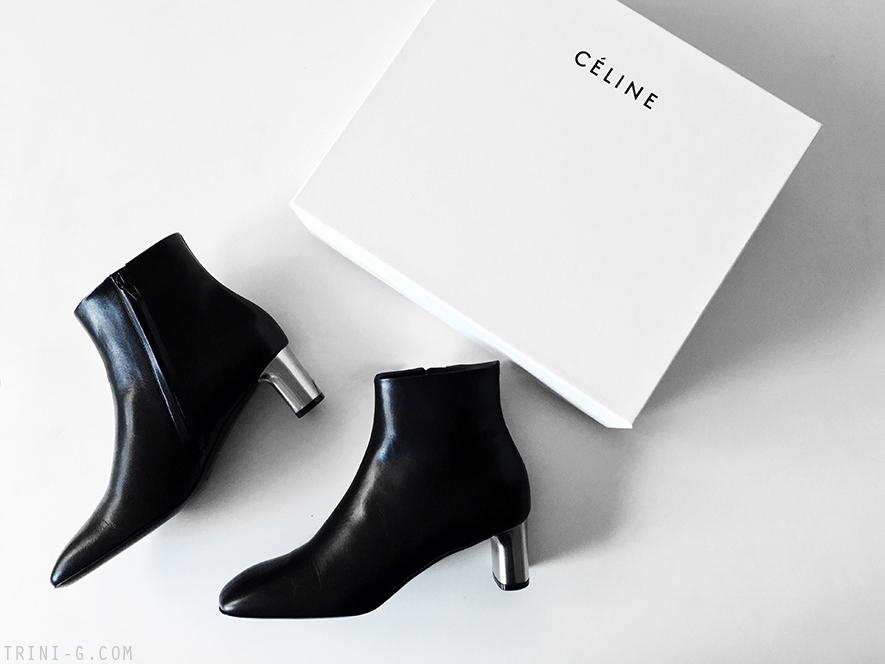 My new ankle boots! Finally I have a new pair of boots, last time I bought a pair was back in 2014 and since then I have been struggling to find a pair that I liked and had the right fit. Early this year in Milan I came across the Bam Bam model by Céline (not this particular one, but another one) and I fell in love with them. The simple, yet sophisticated design, the versatility, I could not pass. Unfortunately it was a little late in the season…February is full Spring season, and there were no sizes. I decided to wait, and this summer during our trip to California, I came across this pair (for all of you who are unaware, Céline has several versions of the Bam Bam boots, that change each year), and I immediately fell in love. It was summer then and still a long way from boots weather in Spain, so I went for the flats at the moment, and decided to wait for these. Finally it's the right moment to order ankle boots since the weather will become cold in like a month, and by then there will be no Bam Bam's left, (this were order for me from Monaco) so you can imagine it is not easy to find them even now.
The review for this goes as follows: excellent quality, love the fit, the height of the heel and the way they go with everything. The only thing to be aware of, is the leather is hard, and they do fit narrow, so my advice is to size half a size up. I tend to do this with all boots, specially because I wear socks and I am not waiting ten or more wears for the leather to finally stretch, and in the meantime suffer every time I walk. I know a lot of people do this, I didn't and it was terrible, now I am starting to this, and I feel it is the way to go.
Now a little info on Bam Bam booties. As I mentioned before there are different versions. This is the Winter 2016 (you can see it on Céline's website). It has a 5cm heel and has a a sixties/seventies vibe since the toe area seems to be narrower. There is a standar bam bam I believe, it has an (6.5 or 8) cm heel. This I am not sure, but there is a standard model. It appears to be rounder at the front, and I think the boot is one or two cms higher or at least it looks like it. Then there is what was the standard Bam Bam until 2014. The heel was 9 cm of height and the boot was definitely taller. Then there is a shoe-boot version from last year, and finally two versions for this year. Pictures below.

I was about to get the standard model, but I never tried it, and I was ordering over the phone so I decided to go with what I knew, and I am really happy. I am so buying the Bam Bam sandals this summer!
To purchase Céline Bam Bam boots you can get them
HERE
.
—————————————————————————————————————————-
Mis nuevos botines, los Bam Bam de Céline. Finalmente tengo un nuevo par de botines, la última vez que compré un par fue en 2014 y desde entonces he estado luchando por encontrar un par que me guste y siente bien. A principios de este año en nuestro viaje a Milán me encontré con el modelo de Bam Bam de Céline (no este en particular, pero otro) y me enamoré de ellos. El diseño sencillo, pero sofisticado, la versatilidad, no pude evitar sentir que eran las indicadas. Por desgracia, fue un poco tarde para la temporada de invierno … Febrero es ya primavera en lo que a Céline se refiere, y no quedaban tallas. Decidí esperar, y este verano durante nuestro viaje a California, me encontré con este par (para quienes no lo sepáis, Céline tiene varias versiones de las botas Bam Bam, que cambian cada año), y de inmediato me enamoré . Era verano entonces y aun quedaba tiempo para clima de botas, así que opté por las bailarinas, y decidí esperar. Finalmente se dio el momento adecuado para estos botines, ya que pronto hará frío, y para entonces no quedará mucho stock de Bam Bam por Europa (este par viene de Mónaco) por lo que podeis imaginar que no es fácil dar con ellos, aun ahora que no esta tan avanzada la temporada.
Valoración de los botines: la calidad excelente, me encanta como sientan, la altura del talón es perfecta, muy cómoda y combinan con todo. Lo único que hay que tener en cuenta, es que el cuero es duro, y son un poco estrechas, por lo que mi consejo es comprar media talla mas. Tiendo a hacer esto con todas los botines, especialmente porque me pongo calcetines y no me da la gana esperar diez o más usos para que el cuero finalmente de de sí, y mientras sufrir cada vez que camino. Sé que mucha gente hace esto, no lo hice hasta hace nada y ha sido mi salvación.
Ahora un poco de información sobre los botines Bam Bam. Como he mencionado antes hay diferentes versiones. Este es el de invierno de 2016 (se puede ver en el sitio web de Céline). Tiene un talón de 5 cm y tiene un aire a los años sesenta y setenta, ya que la punta parece ser más estrecha y un tanto rectangular. Hay un modelo estándar creo, el tacón es de alto unos 6.5 o 8 cm, no estoy segura, pero hay un modelo estándar. Parece ser más redonda en la parte delantera, y creo que la bota es uno o dos cm más alto o por lo menos parece. Luego está lo que fué la Bam Bam estándar hasta 2014. El tacón era 9 cm de altura y la bota era definitivamente más alta. Luego hay una versión muy estilo botín del año pasado y este año hay dos (podéis comparar en la segunda foto).
Estuve a punto de comprar el modelo standard pero entre que no estaba disponible y no me lo había probado jamás decidí ir a por la versión de este año y estoy encantada!
Para comprar los botines Bam Bam podéis hacerlo
AQUI
.
—————————————————————————————————————————-
Tweet
Fuente:
este post proviene de
Trini
, donde puedes consultar el contenido original.
Creado: