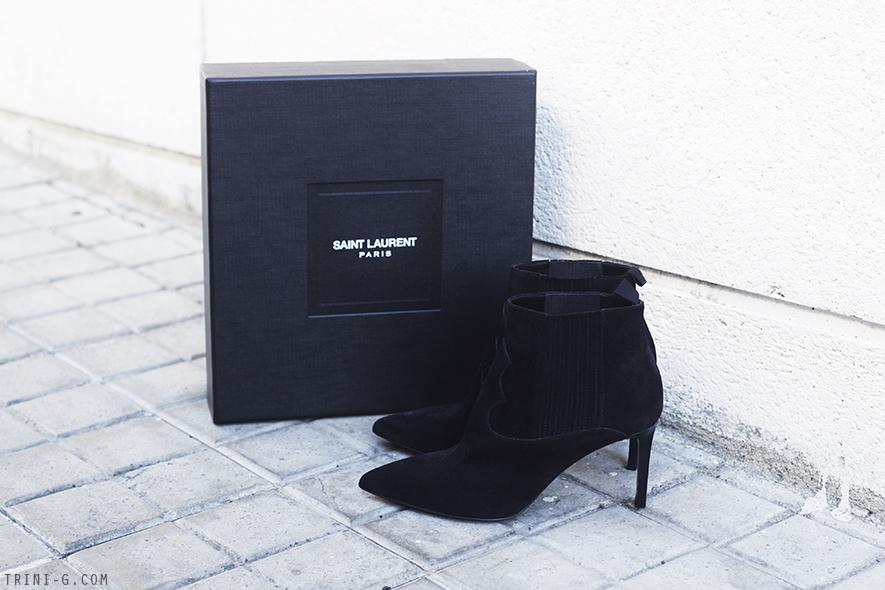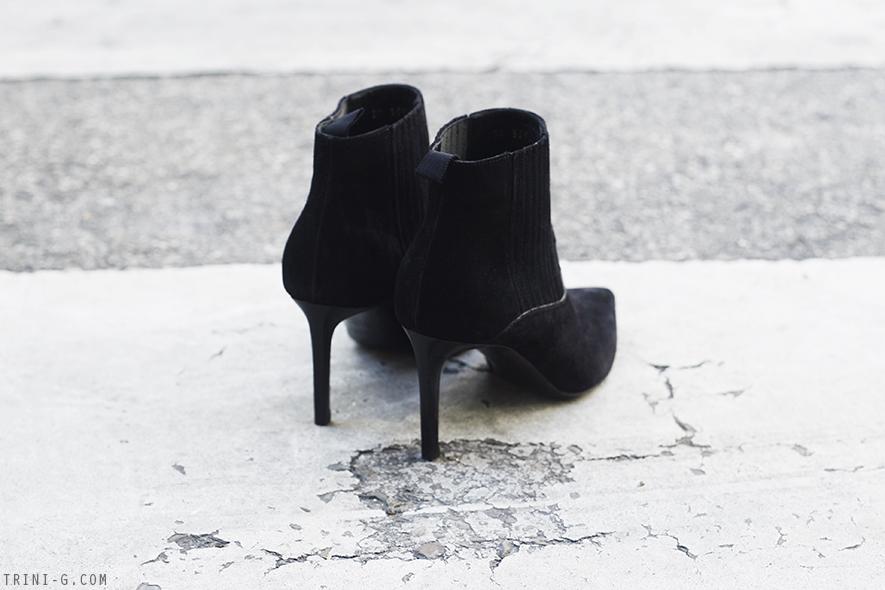 As you know I hardly wear heels, but when I do I wear classic, timeless, investment pieces that are meant forever. This one of them. I longed for the perfect high heel ankle boots since forever but it was hard to locate the perfect pair. They have to be the right height, they have to be suede, the heel must be thin, they have, must be black. Then there are the details where on the ankle do they start? Are they too wide on the ankle? And more things that in my mind they have to be perfect, or I just wont buy it, and therefore I spent years without any, until now. I saw this online and instantly I knew they would be perfect for me. I didn't even try them. I bought them while I was on Chile, right at the very start of the sales, and had them delivered to my boyfriend's parent house here in Madrid. I waited month and a half for them, and I missed the returning time-frame so it was risky, but so so worth it.
First of all they are comfortable right from the start, pull on booties are the best! A little tight at first, after ten minutes you can already feel them get softer. The height is perfect at least for me, yes I not a high person but I am not that small either, kind of average really so I don't usually need more than 4 inch heels, and I don't like them anyhow. These are 3.5 inch I believe so they are just what I need. The strange thing here is that they are a seasonal item from FW 2014 so they are not available anymore sadly. They have such a classic perfect design I would have made them a permanent item. Anyhow they are a great piece and that's what counts!
—————————————————————————————————————————-
Como sabéis llevo muy poco tacón, pero cuando lo hago suelen ser clásicos atemporales. Una inversión a largo plazo con el principal fin de ser usado/s por siempre. Estos botines son un claro ejemplo. Llevaba años queriendo un par de botines con tacón pero me era imposible encontrar un par que me gustasen. Ya sea por A, B o C nada me convencía y de no estar 100% encantada con la prenda prefiero no comprarla. Pues bien finalmente esta temporada encontré las ideales. El único problema con estos botines fue que los encontré en internet y claro no había forma de probarlos. Los compré cuando comenzaron las rebajas, yo estando en Chile sabiendo que hasta mes y medio más no podría probarlos y perdería el tiempo reglamentario para las devoluciones. Tuve muchísima suerte porque me están perfectos, la verdad fue un poco arriesgado pero sabía que eran para mí.
Lo primero son cómodos desde el comienzo, aunque un poco ajustados la piel es blanda y andado diez minutos ya se amoldan al pie. Son super fáciles de poner, ya que no tiene cremallera ni nada, y al ser elásticos quedan justos en el tobillo, pero no demasiado. El tacón es de ocho centímetros lo que a mi parecer es el alto perfecto, mi límite es de diez, más que eso me parece vulgar y aunque no soy alta, tampoco soy tan baja, con lo cual ocho, nueve o diez es lo mío. Lo extraño en este modelo de botín es que pese a tener un diseño clásico y atemporal son de temporada y no un artículo permanente. Tienen un detalle un poco western pero es mínimo y la verdad es que me gusta. Es es toque que lo hace diferente y menos evidente. En fin, que realmente lo recomendaría si no fuera porque ya no están disponibles.

Tweet
Fuente:
este post proviene de
Trini
, donde puedes consultar el contenido original.